If you find a good rock to hide under until Nov. 6, 2024, please let us know?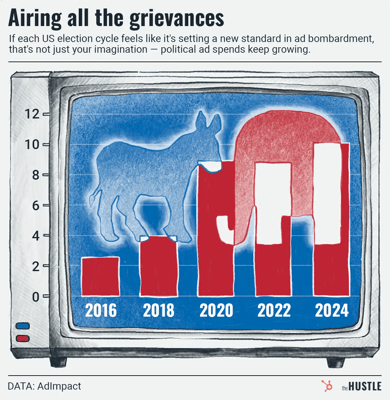 Another Election Day is fast approaching for Americans — just 413 days away, somehow — but political ad projections suggest it'll feel like 413 years.
Campaign advertising spend is expected to hit a record $10.2B for the 2024 cycle, per ad-tracking firm AdImpact.
Our patience will lose, but who wins?
Incredibly, for an industry that's been losing steam (and viewers) fast, local television will be a big beneficiary, projected to land half of the collective $10.2B ad spend, per Bloomberg.
Which is… bizarre.
This summer, streaming services saw record viewership, outdrawing both broadcast TV and, for the first time, cable. Yet:
Local TV is expected to haul in $5.1B of the political ad spend, with cable TV landing $1.9B in prizes.
Streaming, meanwhile, is projected to see only $1.3B, with digital ads trailing behind at $1.2B.
At least radio's place in all of this makes sense, accounting for only $400m.
What gives? Democratic operative Marc Levitt wrote in 2018 about the "warped" incentives of campaigns, which are "conditioned to prioritize… pricey TV ads." He noted that older candidates and consultants, and their "TV era" orthodoxies, remained in charge.
That's apparently still the case today; if anything shows off the slow-to-change ways of the political engine, it's a traditional TV-led campaign spend.
But hey, at least…
… now you know to avoid your local stations for the next 14 months?
And if you're already sick of it all, hang in there — to date, we've put $652m of campaign ads behind us, so there's only another ~$9.55B worth of ads left to endure.